Daniel K. Back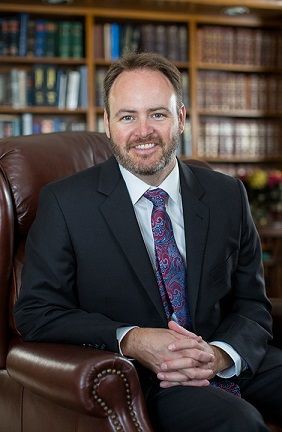 Mr. Back was born and raised in the high desert of Albuquerque, New Mexico. He attended Sterling College (Sterling, KS) on a baseball scholarship, where he met his beautiful wife of 15 years, Katie. He then completed his undergraduate degree at Bluefield College (Bluefield, Virginia), also on a baseball scholarship. He graduated Manga Cum Laude with a degree in Criminal Justice and Psychology.
Following undergraduate school, Mr. Back attended the Baylor University School of Law in Waco, Texas, where he was involved in and won multiple litigation-based competitions. Most notably, he competed in and won the prestigious American Association for Justice (AAJ) National Mock Trial Championship, which involved 224 teams from law schools all over the country.
Current Practice
Upon moving to Kansas, Mr. Back spent several years as a defense attorney, representing physicians, hospitals and insurance companies all over the state of Kansas. Today, Mr. Back focuses on medical malpractice and other personal injury matters including auto accidents, products liability cases and other catastrophic injuries. With experience and trial victories as counsel for plaintiffs and defendants in civil litigation, Mr. Back brings excellent, well-rounded experience to the table.
Why Personal Injury?
"Our clients are, unfortunately, often dealing with the worst set of circumstances they have ever endured. Whether it's a personal injury that has drastically impacted their life, or the tragic death of a loved one, if they come to us… things are not well. It is then my responsibility to take that horrible situation and do everything in my power to seek justice on their behalf. Often that justice equates to monetary compensation. While receiving compensation for the injury cannot undo the damage that has already been done, it can help provide necessary funds to ensure that appropriate care is provided in the future and appropriately compensate the individual for their pain and suffering or their grief over losing a loved one. I do not take that responsibility for granted, and I will never grow tired of knowing that I have helped brighten a client's future. Knowing I can make that kind of difference, gets me out of bed each day."
Successes
Mr. Back has resolved hundreds of cases, recovering millions for his clients. Such cases include medical malpractice, gas explosions, car/truck accidents, and dangerous drugs/products.
Education
B.S. Bluefield College, 2004
J.D. Baylor University, 2007
What Sets Our Firm Apart From the Rest?
You will find two things at Hutton & Hutton that you will have difficulty locating anywhere else. One, our vast experience. Together, our attorneys have hundreds of years of experience litigating any type of personal injury you can think of – medical, drug, product, plane, train, and automobile – and have successfully recovered in those areas. Second, we put your interest first. Says, Mr. Back: "It's not about the money here at Hutton & Hutton. We do what is necessary for your case. If that means trying the case – we'll do it. If that means aggressively pursuing settlement – we'll do it. The bottom line is that we want what is best for our clients. That is far more gratifying and professionally responsible that simply chasing the next dollar."
Peer Recognition
Mr. Back has been named to the National Trial Lawyer "Top 40 under 40 for 2016, 2017, 2018, and 2019;" the Missouri and Kansas Super Lawyers Rising Star list for 2013, 2014, 2015, 2016, 2017, and 2018; and the 2019 Super Lawyers List.
Legal Credentials
Court Admissions:
Kansas
Missouri
10th Circuit Court of Appeals
Community Involvement
In addition to being a practicing litigator, Mr. Back has been an adjunct professor at Wichita State University for the past 10 years, teaching undergraduate and graduate courses in criminal justice and trial advocacy. He also coaches his sons' baseball and soccer teams at the YMCA and Andover Recreation League. Finally, Mr. Back is active in the Christian Legal Society, which includes participating in free legal clinics throughout the community.
Personal Interests
Mr. Back and his wife, Katie, have three very active little boys. They enjoy anything outdoors, but particularly enjoy baseball, golf, and hiking.