Nola Tedesco Foulston
Representing Injured Victims for More Than 40 Years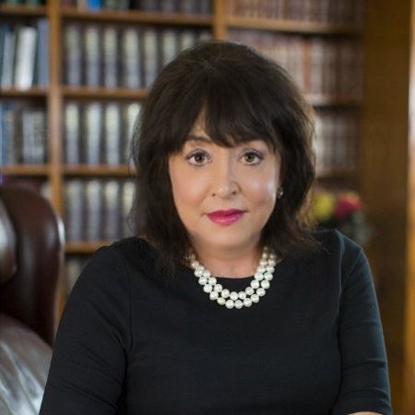 Nola Tedesco Foulston Attorney
Bio
Nola Tedesco Foulston, a native of Lake Mahopac, NY received a Bachelor of Arts in 1972 from Fort Hays State University, attended the University of Kansas Graduate School and earned her Juris Doctorate degree from Washburn University in 1976. In 2013 Mrs. Foulston retired after 24 years as the elected District Attorney to join the Wichita law firm of Hutton and Hutton as a trial attorney who specializes in personal injury, medical malpractice and complex tort litigation.
Mrs. Foulston was admitted to practice law in the State of Kansas in 1977, and is also admitted to practice before the U.S. District Court of Kansas and holds the privilege of admission to practice before the United States Supreme Court. Mrs. Foulston legal career began as an Assistant District Attorney in Wichita, Kansas from 1977-1981 and following until 1989 she practiced civil law specializing in diverse areas of the law including corporate litigation and employment law.
In 1989 Foulston was sworn in as District Attorney for the 18th Judicial District of Kansas Sedgwick County, Kansas. She is well known for her tough stand on crime and In that capacity she received numerous honors, awards and accolades from community service groups, law enforcement agencies and governmental bodies. In 2012 she was awarded the prestigious American Bar Association Norm Maleng Minister of Justice Award, a distinguished national honor presented in recognition of her career achievements and a dedication to the administration of justice.
Through the years, Mrs. Foulston has made significant academic contributions to the legal community as an author and lecturer at the Prosecution Advocacy Center and for the National District Attorneys College where she also served as a regent. Mrs. Foulston has authored many legal articles and treatises, in addition to her role as a national media spokesperson on network television.
Prominent profile cases of Mrs. Foulston include: the 1990 murder of Nancy Shoemaker, the Reginald and Jonathan Carr brothers' murder spree of 2000; the BTK serial killer Dennis Rader in 2005; prosecution of Scott Roeder for the killing of Dr. George Tiller in 2009; and importantly, being co-counsel in 2006 before the United States Supreme Court in Michael Marsh v. State of Kansas that upheld the constitutionality of the Kansas death penalty law.
Her numerous professional memberships include the Wichita, Kansas and American Bar Association, Charter Member of the Wesley E. Brown American Inn of Court where she served as a Master, Executive Board of director with the National District Attorneys Association, and a member of the American Academy of Forensic Sciences Jurisprudence Section. Mrs. Foulston maintains her long standing relationship with the Kansas County and District Attorney Association as an emeritus retired member and this year, she has received the 2013 Child Start ~ Children's Champion for her body of work in addressing critical children's' issues in her community.
Mrs. Foulston enjoys the privilege of being an AV rated Attorney by Martindale-Hubbell® Peer Review Ratings™ that are an objective indicator of a lawyer's high ethical standards and professional ability, generated from evaluations of lawyers by other members of the bar and the judiciary in the United States.
In June of 2013, Nola Foulston was awarded the Washburn University School of Law ~ Lifetime Achievement Award bestowed upon graduates whose careers have been highly distinguished, and whose achievements and contributions are widely recognized as significant and outstanding in their field of endeavor, whether it be in the practice of law, the judiciary, business, public service, education or otherwise. Most recently, Mrs. Foulston served as a panelist for "Neutral Ground" a program of the Kansas University Dole Institute of Public Policy. As a skilled complex litigation attorney, Mrs. Foulston looks forward to her practice at Hutton & Hutton LLC in her representation of clients of the firm.
Legal Credentials
Court Admissions:
Other Admissions:
United States District Court for the 10th Circuit
Mrs. Foulston has been admitted and has practiced before the United States Supreme Court in the case of State of Kansas v. Michael Marsh upholding the constitutionality of the Kansas Death Penalty Law.
Retired Member Emeritus Kansas County and District Attorneys Association
2013 Child Start ~ Children's Champion
2013-2014 Martindale-Hubbell® Bar Register of Preeminent Women Lawyers
Don't wait to get started on your case. Contact our firm to schedule a free consultation today.
Video