Andrew W. Hutton
Representing Injured Victims for More Than 40 Years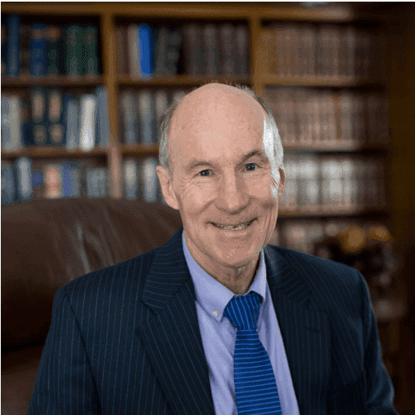 Andrew W. Hutton Founding Attorney
Bio
Andrew, with his brother Mark, co-founded the firm in 1979. Andy is a graduate of Washburn University of Topeka, receiving his Bachelor of Business Arts magna cum laude in 1976 and his Juris Doctorate in 1979.
Andrew, a 1988 finalist for the U.S. Trial Lawyer of the Year Award from the Trial Lawyers for Public Justice, is involved in pharmaceutical products liability litigation, medical malpractice litigation, and other serious injury cases. Since 2003, Andy has been selected as one of the Best Lawyers in America.
Andy's peers have chosen him as one of the Missouri & Kansas Super Lawyers "top 100" for several years, starting in 2008. Like his brother, Andy has 40+ years of experience in personal injury litigation. One of Andy's early cases involving a paralyzed teenager who slipped off a slippery swimming pool starting block during a racing dive resulted in the elimination of non-slip-resistant starting blocks.
Awards & Honors
Mr. Hutton is an AV-rated attorney. The Martindale-Hubbell® Peer Review Ratings™ are an objective indicator of a lawyer's high ethical standards and professional ability, generated from evaluations of lawyers by other members of the bar and the judiciary in the United States. For the last 20 years, Andrew Hutton has been selected to the Best Lawyers of Kansas and Missouri by the Best Lawyers in America.
Andy is a member of the American Association for Justice, Trial Lawyers for Public Justice, American Board of Trial Advocates, National Board of Trial Advocates, the Kansas Association for Justice, the Kansas Bar Association, and the Wichita Bar Association. Andy has enjoyed sharing his knowledge and experience by giving presentations from California to Cambridge, England.
LEGAL CREDENTIALS
Court Admissions:
U.S. Court of Appeals, 10th Cir.
U.S. Court of Appeals, Fed. Cir.
U.S. Court of Federal Claims
U.S. Supreme Court
NOTABLE CASE RESULTS
Andrew Hutton has tried numerous cases to verdict, including multiple cases resulting in record-setting multi-million dollar awards to his clients. He served as a lead counsel, receiving a $15 million verdict in a vaccine-injured child case. He also served as a lead counsel, receiving $6.39 million in a neurosurgical brain damage case. He was a lead counsel, receiving a $4.75 million verdict, including $2 million in punitive damages in a case involving an oral contraceptive. He has extensive experience in the handling of product liability cases, mass tort cases, and medical malpractice cases.
Andrew Hutton's tireless work on behalf of consumers has led to many positive results for citizens across the country, including the removal of dangerous products from the marketplace, the addition of important warning labels, the improvement of existing products, and the purification of vaccines.
In addition, Andy was active in the tobacco litigation due to the firm's membership in the Castano Plaintiffs' Litigation Committee, a nationwide consortium of law firms committed to conducting litigation against the tobacco industry, which was resolved as part of the landmark $206 billion Master Settlement Agreement announced in November 1998 between the tobacco industry and the states' attorney generals. States, cities, and counties sought both to recover the public costs of treating smoking-related diseases and to require the tobacco industry to undertake extensive modifications of its marketing and promotion activities in order to reduce teenage smoking.
Andrew's work in the 1980s against the manufacturers of the DPT vaccine is often noted to be responsible for the purification of the DPT vaccine, which has resulted in a great reduction in serious reactions to the vaccine.
MASS TORT EXPERIENCE
Counsel in many Multi-District and/or Mass Tort actions: Accutane, Actos, Avandia, Baycol, Bextra-Celebrex, Vioxx, Digitek, Ephedra, Fen-Phen, Fosamax, MMR vaccine, Polio vaccine, Breast implants, Norplant, Prempro, Yaz, Zofran, Risperdal, SSRI Antidepressants, Trasylol, Viagra, Denture cream, Pradaxa, Hip implants (Stryker, DePuy), Knee implants (Zimmer, DePuy), Kugel mesh, transvaginal/pelvic mesh.
Other Complex Litigation: Tobacco, Antitrust (federal and state, multiple products), Talc (baby powder), Sorin 3T Heater-Cooler System, Airplane crashes.
NATIONAL REPUTATION FOR EXCELLENCE
Our attorneys are recognized as some of the most qualified and skilled professionals in their fields. They are routinely appointed by federal and state courts to serve as leaders in national litigation. Many of our attorneys are directors and officers of local, state, and national bar organizations.
We possess the sophisticated legal skills, financial resources, investigative talent, and administrative support to take on the world's most powerful corporations. We take great pride in our innovative approach to the practice of law and our firm's leadership role in cases resulting in landmark decisions and precedent-setting rulings.
COMMITMENT TO THE COMMUNITY
Hutton & Hutton Law Firm proudly supports civil rights, human rights, increased access to legal services, and initiatives and organizations working to improve civil justice, increase diversity in the legal profession, and assist the underserved in the communities we serve. Andy Hutton is driven by a strong and principled sense of social responsibility. He is committed to achieving justice for investors, consumers, employees, patients, and business owners; promoting safer products and fair competition; protecting our environment; and assisting individuals to blow the whistle on fraud.
Since our founding 40 years ago in 1979, Hutton & Hutton Law Firm has litigated and resolved hundreds of class action lawsuits and thousands of individual cases. We have played a significant role in achieving verdicts and settlements valued at $100 million or greater, including cases in excess of $1 billion.
Don't wait to get started on your case. Contact our firm to schedule a free consultation today.